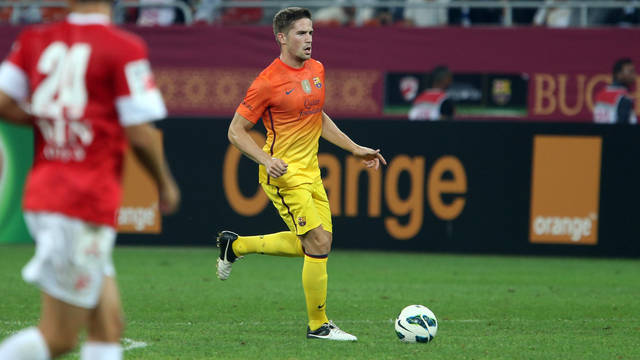 The player will be transferred to Celta for a sum of 1 million euros, FC Barcelona retain a buy-back option in addition to the rights on the player in any future transfer
FC Barcelona and Real Club Celta Vigo have agreed to terms for the player Andreu Fontàs. Celta will pay 1 million euros for the player, the overall cost of the transaction is contingent on the player's performance, and FC Barcelona reserve a buy-back option in addition to rights on any future transfer on the centre back.
Celta, where the Fontàs will play the next three seasons, will be managed by Luis Enrique Martínez, who managed the centre back in Barça's youth system from 2008 through 2010. During this time Luis Enrique repositioned Fontàs from the holding midfielder position to the full back position.
Six years as a Blaugrana
Signed in 2007, Fontàs was promoted from Barça B to the first team after Abidal was sidelined due to illness in 2011. The following year, however, the defender spent most of the season recovering from a serious injury to his right knee. In the 2012/13 season, once recovered, Barça loaned the player out to Mallorca.
Fontàs, 23 years old, made nine appearances for Mallorca this season.