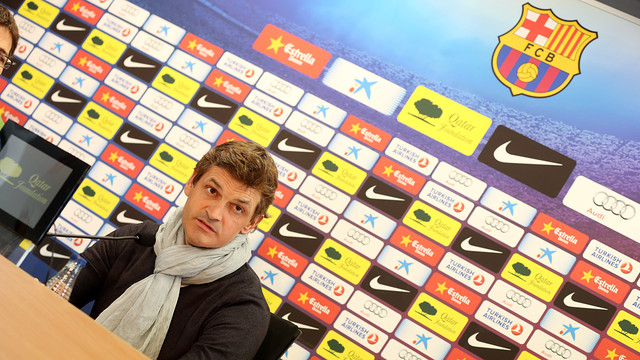 The FC Barcelona coach is totally focused on winning at the Calderón on Sunday night and finally clinching a title that is already well within touching distance
"This league means a lot. We'll have beaten the best Madrid ever, the one that got 100 points" says Vilanova

Tito Vilanova is as fully focused as he should be on Sunday's game away to Atlético Madrid (19.00). "The only thing I'm thinking about is winning our match. I can't be worrying about what might happen on Saturday", said the FCB manager.
He accepts that winning their own match will not be an easy task against a side that is proving very hard to beat under Diego Simeone. "I know they'll want to beat us" says Vilanova. "It's always an added motivation to be playing Barça. Atlético have the cup final to think about, but they have a big enough squad to be able to cope well enough with this match too. They've only let in ten goals at home and are having an excellent season".
Tito Vilanova says that he doesn't know whether Simeone will choose a full-strength team, or whether he'll rest some of his biggest names. All he is concerned about is finally making sure of the Liga title. "People get the feeling that we already won the league some time ago, but Real Madrid have had an incredible second half to the season and if we had relaxed, they'd have caught up with us".
"This league means a lot. We'll have beaten the best Madrid ever, the one that got 100 points", added the FC Barcelona manager. Barça could also reach that total if they get all 12 points that are still be played for. "Or main aim for now is just to win the league. There are no trophies for getting 100 points. But if we win on Sunday and have chance of doing it, we'll give it a go."
The manager also explained that Leo Messi is feeling much better this week and may well play the full 90 minutes. But in whatever case, "the aim this Sunday is not for Messi to get to 50 goals, it's to win the league. But if he can do that as well, so much the better".
He ended his conference in the Ciutat Esportiva pressroom by discussing the absence of Víctor Valdés, saying that in training on Friday the goalkeeper was trying too hard to get match-fit and ended up worse off than before. "He supported his foot badly and ended up pulling his left calf muscle. He was looking forward to making his 500th appearance for Barça". Vilanova also commented that Carles Puyol "is suffering less and less from the typical post-operation pain."