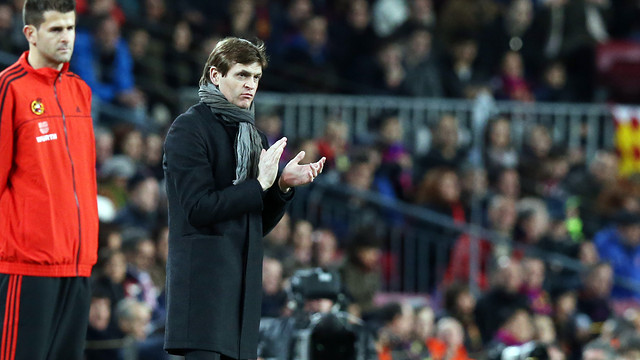 The five previous managers to do so were Samitier, Helenio Herrera, Terry Venables, Louis van Gaal and Pep Guardiola
Tito Vilanova has joined a select group of managers that have won the Spanish championship in their first season on the FCB bench. Before him came Josep Samitier, Helenio Herera, Terry Venables, Louis van Gaal and Pep Guardiola. This was his first title as first team manager, although he had already won 14 as Guardiola's assistant.
Winning debut
This is the sixth time that a debutant on the Barça bench has won the league, an achievement that deserves special merit considering that he has also been fighting against serious illness this season. It's an all-round success not just for Tito, but also for the Futbol Club Barcelona coaching staff in general. The 2012/13 season should be remembered as Tito's League.
Tito's first major managerial honour is also Barcelona's fourth league in five seasons, yet more conformation of this incredible generation's dominance over the last few years.
Sixth winning debutant
Tito is not the first manager to win the league at the first time of asking. The first was in 1944/45, when Josep Samitier led the team to the title by just one point over the eternal rival, Real Madrid. Thirteen years later, another club legend got off to a perfect start: Helenio Herrera. The Argentinian also saw his side narrowly edge out Real Madrid to first place.
It would be another 25 years before Terry Venables became the third manager in this exclusive list. That was in the 1984/85 season, when 'El Tel' led the Catalans to a ten-point winning margin over second placed Atlético Madrid. Then in 1997/98 came Dutchman Louis van Gaal, in the first of his two spells in charge at Barça, and finally, Pep Guardiola won an astonishing six titles in his first year in charge, including the league.