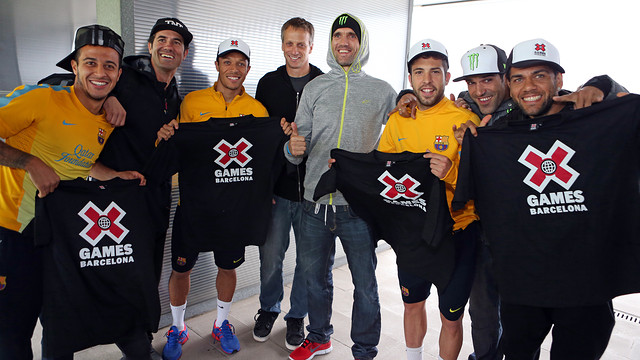 The team met with high-profile X Games participants before this afternoon's training session
Leo Messi worked with the team physio while Adriano, Alves and Abidal, worked apart from the group
FC Barcelona hosted some high-profile X Games participants this Wednesday afternoon. Tony Hawk (Skateboard), Jamie Bestwitch (BMX), Travis Pastrana (Rally Cross), Paul Roríguez (Skateboard), Kevin Robinson (BMX), and Bob Burnquist (Skateboard) chatted and exchanged gifts with Barça's first team players before the team's training session. The X Games, the biggest action sports event in the world, will kick off in Barcelona this Thursday and will run through Sunday.
Training session
The team returned to training this Wednesday afternoon after enjoying two days off (which the players used to celebrate the league title). The session served to prepare for Sunday's match against Valladolid at the Camp Nou.
Leo Messi, whose hamstring injury was confirmed on Tuesday, worked with the team's physio, while Adriano, Alves and Abidal trained apart from the team. It's worth noting that the Frenchman didn't feature against Atlético Madrid this weekend due to injury, while Adriano and Avles were subbed off against the Colchoneros as a precautionary measure.
Víctor Valdés, who had permission from Tito Vilanova, missed this afternoon's session. The keeper continued his recovery from his plantar fasciitis injury this morning at the Ciutat Esportiva with the team physio.