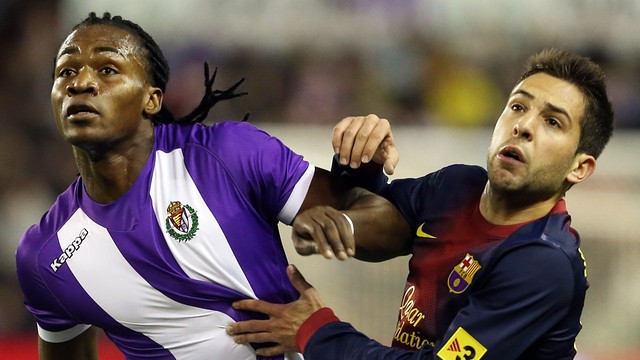 The Pucela, with Primera survival already guaranteed, visit Barcelona with the hope of becoming the second team to take points off the Blaugrana at the Camp Nou
PREVIOUS ENCOUNTER
FC Barcelona arrived in Valladolid on December 22nd of 2012 for the last match of the calendar year. The game against the Pucela ended in a 1-3 for the Blaugrana thanks to a first half strike from Xavi (min 42) and goals from Messi and Tello after the break. The home team pulled one back in the 89th minute when the veteran Javi Guerra fired past Víctor Valdés.
It was a historic day for the Blaugrana on both the collective and individual levels: the team secured their 49th point from 17 matches, a feat unequalled in Spanish football history, and Leo Messi took his goalscoring tally for the calendar year to a record-setting 91 goals.
FORM GUIDE
Valladolid are 12th on 43 points after 35 matches. Their last five matches in La Liga ended in two victories, one defeat and two draws. The victories were secured against Deportivo (1-0) and Getafe (2-1), the defeat came at the hands of Real Madrid (4-3), and the draws were against Granada (1-1) and Sevilla (1-1).
Manager Miroslav Djukic warned that his men "will try to win" and thus "close out the season on a high note" even though the team's main objective has already been reached: securing a spot in Primera for the 2013/14 season. Similarly, Tito Vilanova also called on his men to fight for victory: "We have to win for our fans, we owe them. We have to finish strong."
ONES TO WATCH
Djukic will be without midfielder Ebert and centre back Rukavina, but he will be able to call on his highest goal scorers: Óscar (12 goals), Manucho (8 goals), and Javi Guerra (7 goals).