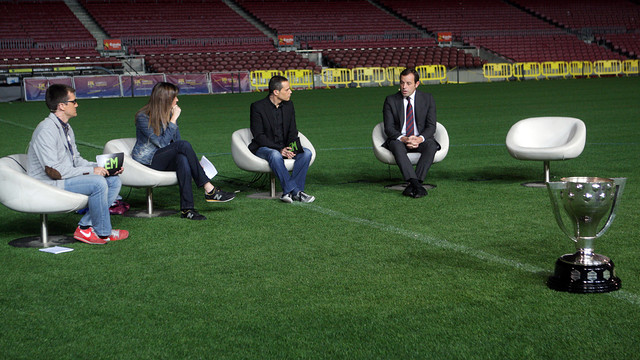 The president of FC Barcelona has emphasised how hard it's been to win the league "because of all the barriers and difficulties the players and coaches have had to face".
Rosell revealed: "If I had to choose just one moment, it would be the return of Abidal"

Immediately after the league title was confirmed, Club president Sandro Rosell was interviewed on Barça TV. He admitted that, "it's a very special league title because of what was behind it. It's one of the most special titles in the history of this Club because of everything that has happened throughout the year, the barriers and difficulties the players and coaches have had to face".
Rosell isn't concerned that the title was confirmed off the pitch. "I like winning the league in any way. In the end it went on a bit too long".
Time to celebrate
Rosell doesn't want people to undervalue this success. "In time, the fans will give it more credit. This year, Barça will be the best team in Spain and one of the top four in Europe". For this reason, he believes the team's performance deserves to be evaluated as excellent. "We mustn't forget that the concentration fell during the season – the frustration that the best manager in the Club's history had left and replacing him was very difficult. In addition our leader had to leave during the season".
Concerning Tito Vilanova, Rosell stated. "I like him because he's straight-talking. He's highly respected by everyone and the players like him. I believe he's taken over well from Pep Guardiola, the best manager in the history of Barça and he's done an excellent job".
Abidal and Tito, the highlights of the league
For Sandro Rosell, there's no doubt about the highlight of the season: "The return of Abidal. It will become one of the best moments of the Club. If I had to engrave a name on the trophy I would put Abidal and Tito".
Apart from congratulating the football team, the president gave his thanks to the roller hockey, futsal and basketball teams. "On Friday, [the basketball team] put up a good fight and showed a great attitude".