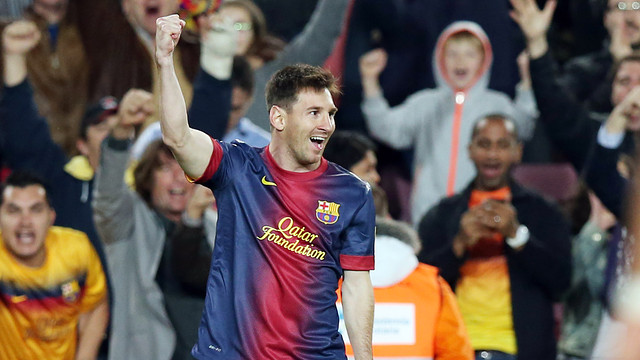 Leo Messi has scored six goals in the four games he has started from the bench
The Argentinian has now scored in 21 consecutive Liga games

Leo Messi the supersub. With two goals against Betis (4-2), the Argentinian has scored a total of six goals in the four Liga matches that he has started from the bench. He got two against Getafe (1-4), one against Deportivo (2-0), one against Athletic Bilbao and another two on Sunday (4-2). Incredibly, when coming on as a sub, Messi has scored once every 23.6 minutes (six in 142 minutes).
Messi also started two Champions League games as a substitute, against Benfica and PSG, but he didn't score in either of those.
21 consecutive goals
He is also still on the most amazing goalscoring streak in Liga history. He has not failed to score at least once in 21 outings, ignoring the games against Mallorca, Zaragoza and Levante in which he played no part due to hamstring trouble. Against Betis he got his first brace since March 17 (3-1 against Rayo).
34 goals from Alcàntara
Messi has scored 46 goals this season, just four short of the record he set last term. His goals against Betis also mean he equals Cristiano Ronaldo's record of one year ago of scoring in 27 different matches in the same Liga season. He has also moved ahead of Josep Samitier in the all-time club scoring charts, making him the second highest goalscorer in club history, when including friendly matches. With 335 goals, Messi is now only 34 short of the all-time record held by the legendary Paulino Alcántara (369).