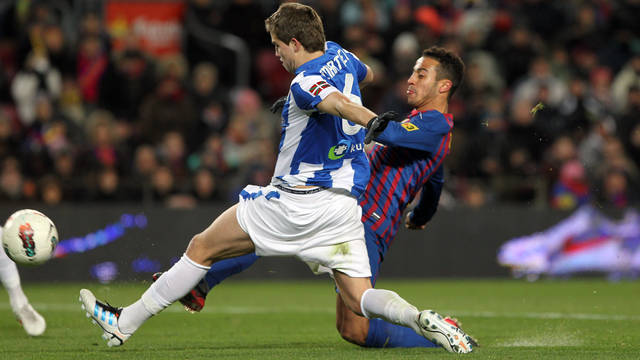 Barça has topped the league table from beginning to end of the season, a feat only matched once before in the 1984/85 season.
Barça kicked off the campaign with a thumping win against Real Sociedad and stormed to five victories in the following five matches.
The team led the table after beating Real Sociedad 5-1 in the opening game of the season.

For only the second time in history, FC Barcelona has topped the league table for all 38 rounds of the championship. From beginning to end.
Barça seized first place in the opening match of the season thanks to 5-1 win against Real Sociedad, with goal difference separating them from the other sides that won their matches. It was the start of a superb run of six wins in the opening six matches of the season, equalling the best ever start to a league campaign. This gave Barça a lead that they would not lose for the rest of the season.
Venables the precedent
The only other time Barça has led the league from beginning to end was in 1984/85. That year, the team managed by Terry Venables won their opening match 0-3 in the Bernabeu and went on to win the next four matches. They clinched the league title with five games still left to play with a 1-2 victory away to Valladolid which featuried a penalty save from the goalkeeper Urruti . It would be remembered as the league title of 'Urruti t'estimo' ('Urruti I love you).