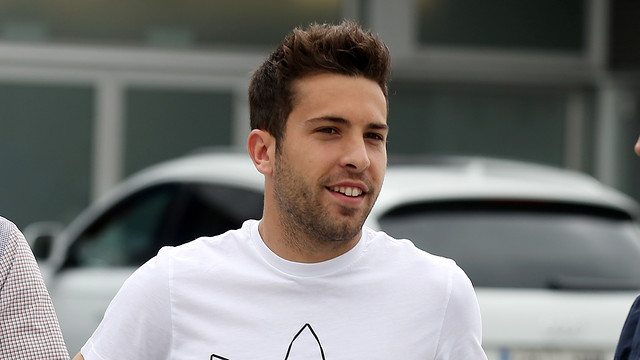 The Barça full back says that whatever Real Madrid do on Saturday, the team will be looking to win the Liga title on Sunday at the Vicente Calderón
"People should appreciate the big lead we've built up ahead of the second placed team. The league is a very important title" he said

Barça want to make sure of the Liga title this weekend. And Jordi Alba made that patently clear in his press conference today at the Ciutat Esportiva: "We'll do everything we can to win the league on Sunday" he said. "Hopefully after the game at the Vicente Calderón, we'll be lifting the trophy. It's a very important title and we're eager to be crowned champions!"
To do that, he believes the team needs to remain focused on winning at Atlético regardless of what Real Madrid do away to Espanyol. As it stands, Barça still need three points to clinch the title.
A special league
Alba commented on what a special moment it is for him. "It will be my first domestic club title" he said. "People should appreciate the big lead we've built up ahead of the second placed team. The team values that lead very highly".
The title would be the ideal way end a generally satisfactory season. "Perhaps we didn't perform well enough in the Champions League semi-final, but I think it's been a good season", said the Barça defender. On a personal level, he added that "I have got better over the season. Although I didn't get a holiday I think it's been my best ever year as a footballer. There are still some things I need to improve, like the yellow card I got in Munich. I'm still young and I'll get better".