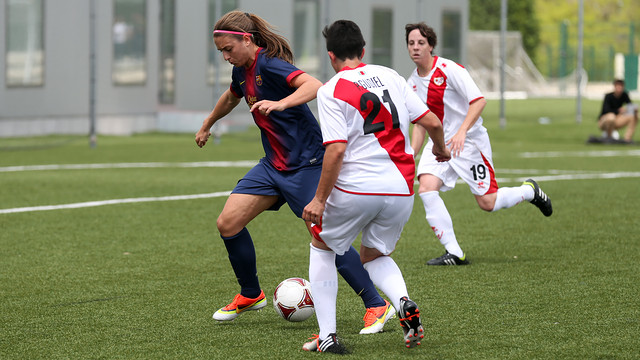 Goals from Míriam and Olga, in the first half of overtime, clinched a spot in the semi-finals of the Copa de la Reina for FC Barcelona
The President of the RFEF, Ángel Maria Villar, awarded the team with the Liga trophy just before kick off. President Sandro Rosell and the director Jordi Mestre were also in attendance
MATCH FACTS
FC Barcelona, 2
Rayo Vallecano, 0
FC Barcelona: Rafols, Marta, Melanie, Míriam, Meli, Virginia, Gema (Corredera, min 48), Guti (Olga, min 48), Vicky, Soni (Kenti, min 116), Alexia (Lau, min 81).
Rayo Vallecano: Alícia, Pilar, Jade, Paloma, Chini, Burgos, Ale, Marta, Keka, P. Gudiel and Patri.
Goals: 1-0, Míriam, 92 min; 2-0, Olga, min 94.

Today's match against Rayo Vallecano – the return leg of the Copa de la Reina quarter-finals – was very similar to the one played last week, but today's match had a happy ending. The 90 minutes of regulation time came to an end with 0-0 on the scoreboard, but the Blaugrana managed to fire for two goals – Miriam and Olga netted for Barça – in overtime to clinch a semi-final berth.
Before the match, the President of the Royal Spanish Football Federation, Ángel María Villar, awarded the league trophy to the Women's team. Villar congratulated the Barça players as did President Sandro Rosell, who was also in attendance. The Blaugrana Carol, who sustained a serious injury this season, was selected to lift the title.