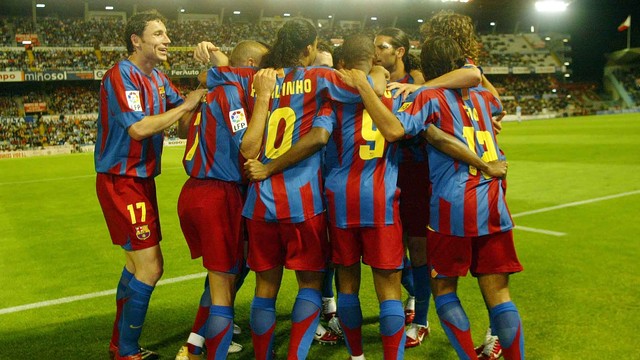 Barça need just two more points to take the league title, but they could be proclaimed champions on Wednesday night if Madrid fail to beat Malaga, or on Saturday when Mourinho's side visit Espanyol.
In a similar situation in the 1991 and 2009 seasons, Barça won the title when Atletico Mdarid and Real Madrid lost their games.
In 2006, the team won the title at half time in their game against Celta, when the Valencia- Mallorca game finished.
Barça could be proclaimed 2012/13 La Liga champions without kicking a ball this week. On Wednesday, Real Madrid play at home to Malaga and on Saturday they visit El Prat to face Espanyol. If they fail to take three points from either of the matches, Barça will mathematically be champions. Should Madrid win both games, it'll be up to Barça to beat Atletico Madrid atteh Calderon on Sunday to confirm the title.
Similar situation in 1991 and 2009
This isn't the first time Barça have faced a situation like this in recent times. In 1991, Johan Cruyff's side lifted the first of their four successive titles, when second place Atletico Madrid lost 2-1 to Real Sociedad. There were still four games to go and curiously enough Barça had lost the day before the Atletico Madrid game, 4-0 in Cadiz.
In 2009, with three left to play, Real Madrid lost 3-2 at Villarreal to handed the title to Barça, who played the following day and went down 2-1 in Mallorca.
Champions at half time

In 2006 the title came in even stranger circumstances. At half time in their game at Balaidos against Celta, the news came through that Mallorca had beaten second place Valencia and Barça were mathematically champions whatever their own result – in the end Barça won the game 0-1 anyway.
This Wednesday or Saturday, the Barça fans may well have a similarly odd experience as their team officially take their 22nd league title – without kicking a ball!