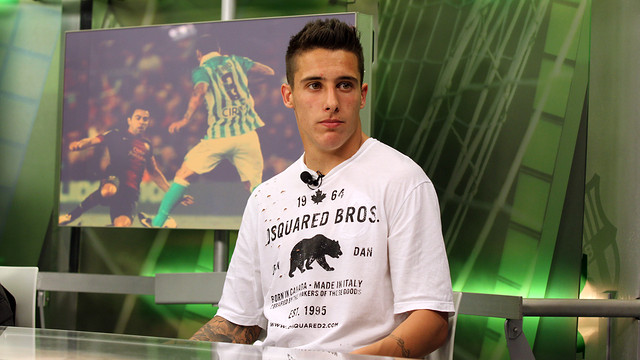 The Barça striker has looked back over what he considers to have been a very good season. "You always want to play every minute there is, but I'm still happy" he said.
Cristian Tello was Sunday night's guest on 'El Marcador' on Barça TV. The striker started the match against Betis and more than once received applause from the Camp Nou crowd. "It is an honour for me that people want me to play", he said, adding that he accepts the fact that he hasn't featured in some big games, against Bayern for instance. "Those are the manager's decisions, I can't comment on that. I felt bad not to be picked in the squad for such a big game, but I'll carry on working just as hard".
He describes his season as "very good. You always want to play every possible minute, but I'm happy with the time I have had". As for his performance in the game with Betis, he commented that "I felt very comfortable and the team helped me a lot … I think they know how fast I am and how I'm always available. That is what I've asked of the coach and the team know that if they can't find a way through the middle, they always have me out on the wing".
Messi's influence
Leo Messi was once again Barça's lifeline, coming on to score twice to turn the game around. "It is very important that Leo Messi plays" said Tello. "He couldn't play in the Champions League and was a major loss. The team played very well without him, but you can tell when he's on. If the best player plays, it shows".
As for winning the Liga title, Tello told the Barça TV cameras that "you always want to win the title at your own ground, but this is one we just want to win the sooner the better".
He also spoke for a while about Thierry Henry, with whom he has frequently been compared, confessing that "I'm still a long way from Henry's football and goals".