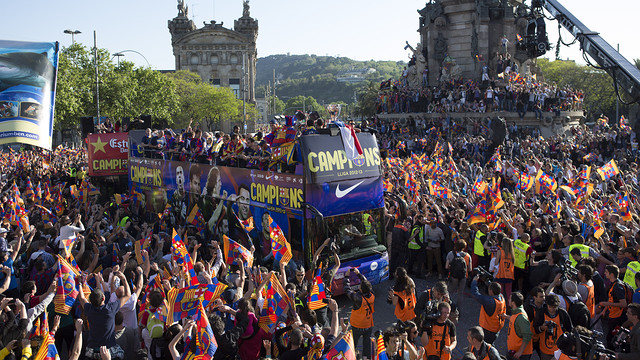 The league champions traversed the city of Barcelona to celebrate the title they won this weekend
The motor coach carrying the champions of La Liga started its trek across Barcelona, starting at the World Trade Center, just a couple of minutes past 18.30. The following two and half hours saw the first team and the coaching staff traverse eight kilometers of the city while they celebrated the Club's 22nd league title. The first team wasn't alone in its celebration, as the FC Barcelona Women's team shared the journey with them. The Women's team were crowed league champions last week when they defeated Athletic Club Bilbao in the final match of the season.
Columbus is Blaugrana
Scarfs, flags, jerseys, hats … the players were decked out from head to toe in Barça garb for the festivities. You can't have a celebration if you don't have the trophy, and so it was that the Liga trophy was at the front of the first team's motor coach. Alexis, Song, Adriano and Abidal were the first to set up shop next to the title as the motor coach commenced its journey, but little by little all the players made their way to the front of the bus. One of the largest crowds awaited the team at the Columbus monument, and it extended back all the way to Via Laietana.
Song and Alves continue the tradition
As tradition would have it, a couple of the players commandeered – and wore – police berets during the champions parade. The first to snag the headwear was Alex Song – in this case the item belonged to an officer of the Guardia Urbana – and Alves, who scooped a beret from a member of the Mossos. But it was Marc Bartra who added his own personal twist to the tradition when he donned a Roman soldier helmet.
The motor coach made its way through the streets of Barcelona and passed by some of the most emblematic landmarks of the city like the Plaça Catalunya and the Paseo de Gracia. The parade came to an end as the first team passed through the Avenida Roma, Comte Urgell and Avenida Sarriá before it finally stopped at the Plaça Doctor Ignasi Barraquer.