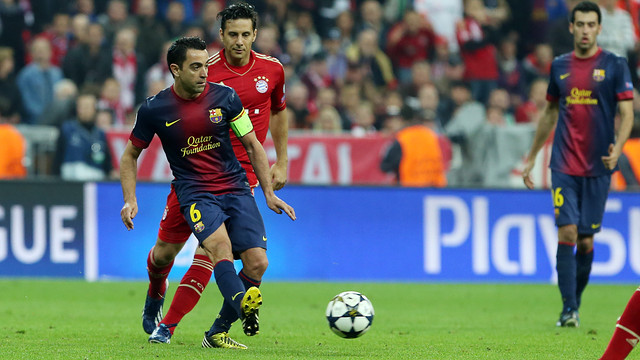 FC Barcelona was the top ranked club for both possession and passes, and was also on the receiving end of the most fouls
Their goalscoring record was not so good, with 18 for and 17 against

After reaching the semi-finals for the sixth year running, the Champions League came to an end for Barcelona on Wednesday night. Their participation concluded with a balance of five wins, three draws and four defeats and a number of other stats that we review here:
Possession kings: No team dominated possession like FCB did in the Champions League. They averaged 67% a game, far more than the 55% of Porto or the 54% of Bayern and Galatasaray.
Four record possessions: Barça were involved in four games in which they totally blitzed the opposition in terms of possession. Those were Benfica v Barça (25% and 75% possession), Barça v Celtic (73% and 27%), Celtic v Barça (27% and 73%) and Barça v Benfica (72% and 28%), all of which saw more than 40% difference between the respective sides. No other team came close to such an achievement.
Passing galore: Barça were also by far the best team at completing passes. They totalled 9,401 in the competition, followed a long way behind by Bayern (6,952) and Madrid (6,759).
18 for and 17 against: But ultimately, it's goals that count, and that was where Barça disappointed this season. They scored just one more goal (18) than they conceded (17), a balance that has nothing whatsoever to do with that of the year before (35 for and 9 against). Four teams managed to score more goals than FC Barcelona.
176 shots: FC Barcelona is, at present, the team that has made the third highest number of goal attempts, 102 of which were on target and 74 were not. The only teams to have more shots than Barcelona's 176 were Madrid (218) and Bayern (188). But Dortmund are just 13 behind on 163, and will still have the chance to increase their tally in the final at Wembley.
Most fouls received: It seems that one of the tactics employed to detain Barça this season has been fouls. No team has been on the receiving end of more than the Catalans, who suffered as many as 178 fouls, followed by Galatasaray (176), Bayern (174) and Madrid (166). Also, out of the four semi-finalists, Barça was the team that committed the fewest fouls.