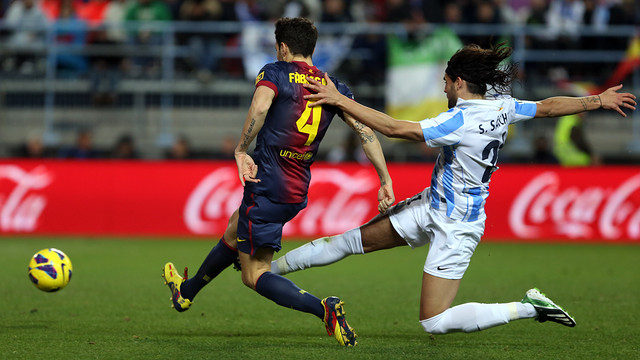 Kick off time between Barça and Málaga is subject to change if the outcome of the match doesn't impact the standings
The LFP announced this Tuesday afternoon that FC Barcelona's last match of the season, against Málaga, will be played on Saturday, June 1 at 21.00. Every match where something is at stake, whether that be fighting to climb out of the relegation zone or securing a berth in a european for the upcoming season, will be played at the same time.
Therefore, this stated schedule above is not definite; kick off time is subject to change if the Andalusian side mathematically qualify for Europe. At the moment, Málaga are sixth. The fifth spot in the table gives access to the Europa League next season. Rayo, who are eighth, are only five points adrift of Pellegrini's team.
Here's an overview of the the last round of La Liga:
Granada-Getafe
Sevilla-Valencia
Madrid-Osasuna
Deportivo-Real Sociedad
Barça-Màlaga
Celta-Espanyol
Mallorca-Valladolid
Saragossa-Atlético Madrid
Levante-Betis
Rayo Vallecano-Athletic Club