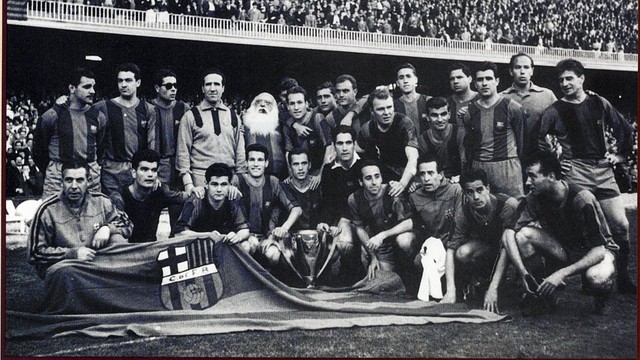 Helenio Herrera's side were crowned champions of the 1958/59 league after a 1-1 draw at Atletico's then home ground, the Estadio Metropolitano de Madrid.
The game was the penultimate fixture pf the campaign and a Segarra equaliser was enough to dash any hopes second place Real Madrid had of taking the trophy.

Even if Real Madrid beat Espanyol on Saturday night, Barça could still claim the league title this weekend by winning at the Vicente Calderon. It wouldn't be the first time the Club have won the league after a game away to Atletico Madrid. Helenio Herrera's 1958/59 side took the title with a 1-1 draw at the Estadio Metropolitano de Madrid –Atletico's home until 1966 – for the Club's seventh league trophy.
Gol de Segarra
Fifty -four years ago FC Barcelona went into the penultimate league game needing just a single point to mathematically take the title. Real Madrid were in second place, two points behind and needed two Barça defeats in the final two games to nick the top spot, but a 66th minute Joan Segarra strike gave Barça a draw and a point against Atletico de Madrid which meant they were crowned champions after the game.
Neto got an equaliser for the hosts, but it wasn't enough – especially since Real Madrid themselves lost 4-1 in Bilbao on the same weekend to leave Barça three points ahead with one game remaining and with two points for a win, Barça were champions!
A week later, the Camp Nou had the privilege of celebrating the title with Suárez, Ramallets, Kubala, Czibor and the rest of the squad as the team signed off the season with a 7-1 thrashing of Oviedo.