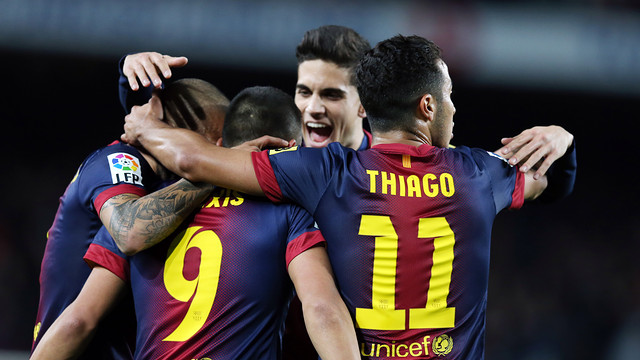 Barça are just two wins off setting a new home record since league was reduced to 20 teams.
The team have played out a whole season unbeaten at home on four occasions – though that was with fewer top flight teams and fewer home matches.

Barça have so far chalked up 16 wins and 1 draw at the Camp Nou in the 2012/13 league season and with two more home games, against Valladolid and Malaga to go, they are just two more wins off the record they set for a 20-team league in the 2009/10 season, when they won every game but one – which they drew.
The Camp Nou has become a fortress over recent seasons, with just 7 points dropped in the 2010/11 season and 5 last year. Only Hercules and Real Madrid have managed a league win at the stadium over the last four years.
Four perfect seasons
Barça have recorded a perfect 100% league record at home on four occasions in their history – in the 1959/60, 1958/59 and 1952/53 seasons(with 16 equips) and the 1948/49 campaign (with 14 teams).