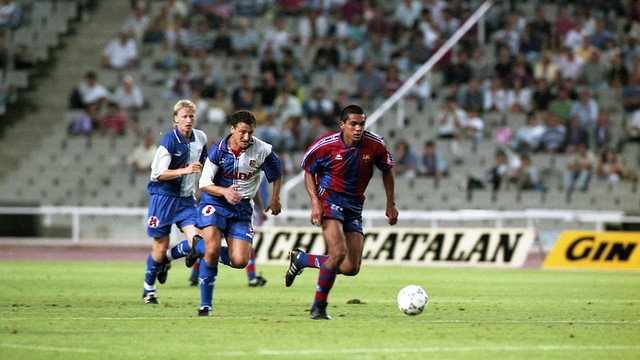 The last time the two sides met in the competition was in 1996, which was also Ronaldo's first game for Barça
Barça won to give manager Bobby Robson his first trophy with the Club.
Atlético Madrid will play FC Barcelona in the Spanish Super Cup. Atlético beat Real Madrid 2-1 on Friday evening in the Spanish Cup Final to qualify for the Spanish Super Cup for the first time since 1996. They needed extra time to win the Cup for the first time in 17 years.
Four precedents
Since the Spanish Super Cup was created in 1982, Atlético Madrid and Barça have met four times in the competition, Barça winning on three occasions with Atletico winning just the first of the four contests.
Barça's first success against Atlético Madrid came in 1991, the two legs ending 0-1 and 1-1. A year later, in 1992 the two sides met again with Barça lifting the third Spanish Super Cup in the Club's history.
The last meeting
The last meeting between the two sides – and the last time Atlético took part in the competition – was in 1996. Barça won the first leg played in the Olympic Stadium in Barcelona 5-2. In the return leg, without Ronaldo and Giovanni, Barça lost 3-1 but won the Cup on aggregate.
.