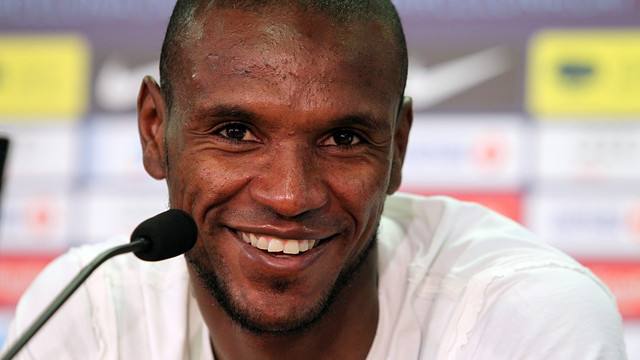 The French full back has announced his departure at an emotional press conference accompanied by president Sandro Rosell and sports director Andoni Zubizarreta
Éric Abidal has told an emotion-packed press conference this Thursday lunchtime that he is leaving FC Barcelona. "It's quite a difficult day" he admitted. "I have played here for six years, and it's been the biggest experience of my life. I had two aims – to fight to be able to see my two daughters grow up and to play again. I'd have loved to have stayed here but I have to accept the club's decision". He added that "I'm leaving but I'll definitely be back. Thank you for the gesture".
Minutes before, president Sandro Rosell had said that "We are not saying goodbye to him, we are saying that we'll meet again whenever he wants. When he decides to stop playing football, he can come back here to be the technical director of all of our football academies on a worldwide level". The FCB president also said that: "Abidal has become a very special person for all of us. He has won our hearts. He has taught us never to give up and how determination can overcome difficulties. It is a lesson for life that we'll never forget".
Sports director Andoni Zubizarreta, meanwhile, left football issues aside and spoke about the Frenchman's human side: "We have laughed, cried, suffered and enjoyed things together. I'll never forget the day I visited him in the clinic and he said 'I'll be back'".
Most of the squad attended the press conference, including coach Tito Vilanova and the four captains Puyol, Xavi, Valdés and Iniesta.
Further details to follow shortly