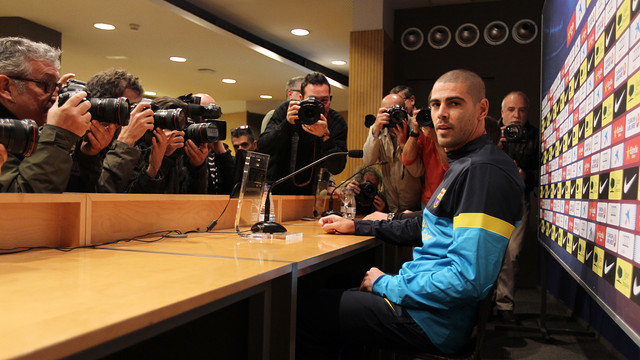 The goalkeeper has thanked the club for everything it has done for him in two decades and has explained why he has decided to leave when his contract expires in 2014
Víctor Valdés has given a press conference on Friday morning in the Ricard Maxenchs pressroom to explain why he will not be renewing his contract with Barça. The goalkeeper says he is eternally grateful to the club and fans but admits to a certain tiredness after so long. Specifically, what he said was:
[[CITA_1]]
"I have been at this home of mine for twenty years, ten at the Masia and twelve in the first team. I have been lucky enough to share a dressing room with the best players in the world and to win all these titles. Barça has given me everything. That says it all. Me and my family. But the goalkeeping position at this club is a very heavy role and I have been feeling that responsibility from a young age. It is a decision that has been maturing for some time and little by little you get worn out. I think my footballing cycle will end when my contact runs out, in other words, next year, and I told the club that when they contacted me to talk about my renewal. I didn't want people to speculate about my professionalism and my love for the colours. I am grateful for the offer, but the decision is irrevocable".
The goalkeeper said that he announced his decision in January because that was when he definitively made his mind up. "To avoid speculations, I felt obliged to make the announcement personally. The club thought differently. I know that some people might feel let down and I beg forgiveness, that wasn't my intention. I have faced up to the fans, I have been sincere and transparent".
Open to the best solution
As for his immediate future, Valdés spoke frankly. "My cycle ends when my contract terminates and the fact is I still have a year left on it … I am open to finding the best solution so that Barça and myself both come out winning … I will defend this shirt and this badge to the death until the very last day".
[[CITA_2]]
He also spoke about his colleagues. "I give thanks to my team-mates and the people that have supported me all these years and especially in these months of silence that have been so tough for me". And he extended his words to everybody else at the club. "Not in 50 lives would I experience again what I have got from Barça. I feel very highly valued. All of the directors have put their faith in me, the group and the philosophy. I have felt very appreciated".
Special night in Paris
Asked about his fondest memories, Valdés said "I'll keep the experience in the dressing room and the most special night of all, Paris 2006 … The worst? The defeats, illnesses, saying goodbye to people and the moments of disappointment shared in intimacy with my team-mates."
He was joined by the three other captains, Puyol, Xavi and Iniesta, and finished by saying what he thinks the most important aspects are when it comes to playing in goal for Barça: "A Barça keeper has to be the best in the world at one on one. And also has to be able to play with his feet, as they always say, that's the most important thing".
The goalkeeping position at this club is a very heavy role and I have been feeling that responsibility from a young age
Not in 50 lives would I experience again what I have got from Barça. I feel very highly valued