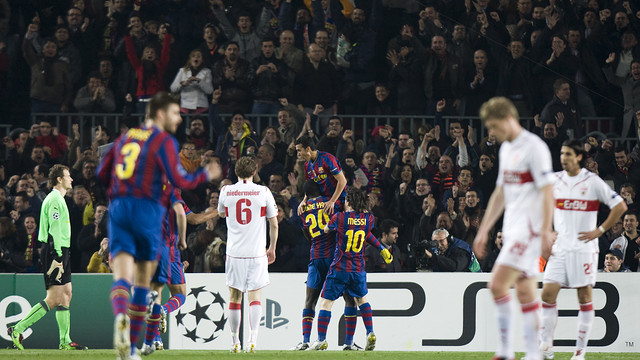 FC Barcelona haven't lost to German opposition at the Camp Nou for 15 years
Barça will host Bayern Munich at the Camp Nou this Wednesday for the return leg of the Champions League semi-final. Ever since Bayern's 1-2 victory over Barça in 1998, the Blaugrana have defeated every German team to visit the Camp Nou (10). Bayer Leverkusen, Stuttgart, Bayern Munich, Schalke 04, Werder Bremen and Hertha Berlin – all in the Champions League – have all fallen to the Blaugrana.
Three recent routs
Curiously, the last three results against German teams at the Camp Nou would be enough to either go through to the final or at least force overtime against Bayern Munich, who won 4-0 at the Allianz Arena last week. Barça defeated Bayer Leverkusen by 7 to 1 last season, while Stuttgart and Bayern Munich both fell 4-0, in the 2009/10 and 2008/09 seasons, respectively.
Barça's most recent results against German teams at the Camp Nou.
2011/12: FCB 7-1 Bayer Leverkusen. Round of 16
2009/10: FCB 4-0 Stuttgart. Round of 16
2008/09: FCB 4-0 Bayern Munic. Quarter-finals
2007/08: FCB 1-0 Schalke 04. Quarter-finals
2007/08: FCB 3-1 Stuttgart. Group stage
2006/07: FCB 2-0 Werder Bremen. Group stage
2005/06: FCB 3-1 Werder Bremen. Group stage
2002/03: FCB 2-0 Bayer Leverkusen. Group stage
2001/02: FCB 2-1 Bayer Leverkusen. Group stage
1999/00: FCB 3-1 Hertha Berlin. Group stage