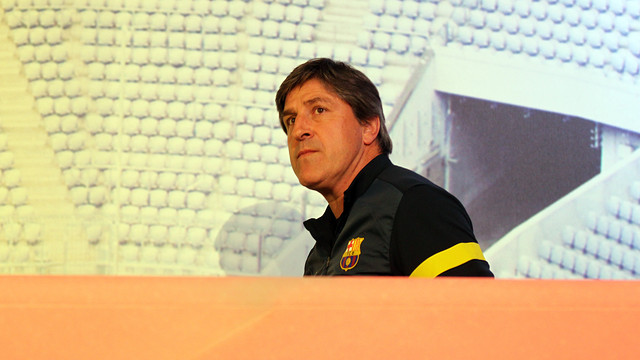 Jordi Roura expects the tie against Bayern Munich to be very intense, and he notes that his players "are very eager and excited to play"
"Messi is feeling well. It looks as though his recovery is on the right track. We'll see how he feels during today's training session and we'll talk to the doctors [before we make a decision on whether or not he plays]," says Roura
Jordi Roura believes the Champions League semi-final against Bayern Munich has all the makings of being an incredible tie. "The two teams that have featured in the last four Champions League finals are going to play against each other," he said. "I think it's going to be a very equal tie, and it's going to be decided by small details. Hopefully we'll play the return leg at the Camp Nou like we did against Milan," said the assistant manager.
Roura, when asked how Barça plan to defeat Bayern Munich, echoed Xavi Hernández: "tomorrow's match will be very intense. The team that imposes its style of play will have the advantage. We know how difficult it will be, Bayern are having a spectacular season."
Excited and eager to play
The assistant manager admitted that Bayern's level of play over the course of the season has been brilliant, but he warned that his players are ready for the challenge: "we are a competitive team and we're on form. We're extremely excited and eager to play. We've qualified for six consecutive semi-finals, and that's important. We've overcome a lot of adversities to get to this point. And now that we're here, we intend to make it to the final."
Messi, on the road to recovery
When asked about whether or not Leo Messi will feature against the Bavarian side, Roura noted that "he's been feeling well. It looks as though his recovery is on the right track. We'll see how he feels during today's training session and we'll talk to the doctors [before we make a decision]. Obviously, it's noticeable if you can't use a great player." He added: "whether he players or not can mark this tie, but with that said, we've shown that we have a deep and talented squad."
Roura also said that Barça's starting team won't be decided until the day of the match, but he didn't rule out the possibility of naming Éric Abidal or Marc Bartra to the starting line-up.