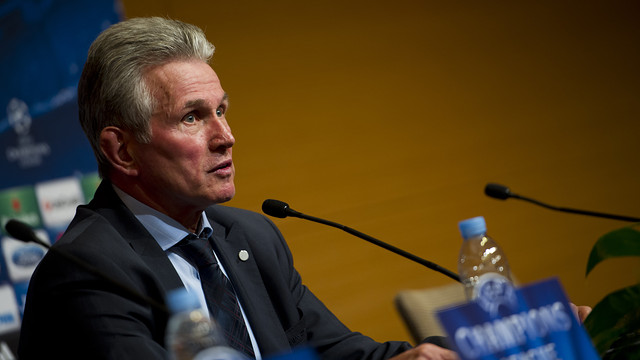 The Bayern manager says that his team isn't "one that only defends" and he warns that his men will "try to score" at the Camp Nou
"Before the away leg I said that we were going up against the best team in the world and I still believe that," says that manager
Müller: "I hope I'm wrong, but I think we're going to see a different version of Messi than the one we saw in Munich"
Bayern Munich come into tomorrow's match brimming with confidence but the German's also have a healthy dose of prudence. "We can't get carried away by the 4-0 from the away leg. In a semi-final there are two matches and we want to prove that what happened in the first match wasn't a fluke," said Jupp Heynckes during this afternoon's pre-match press conference. "Before the match in Munich I said that two top European teams were going to face each other. For me, Barça continue to be the best team in the world and we've prepared accordingly," he added.
Loyal to their style of play
Heynckes quickly rubbished all speculation that Bayern's approach to tomorrow's game will be defensive. "We have our philosophy and we've shown that we're a great team and that we can perform at a high level. We are not going to play defensively tomorrow. We'll be brave and we're going to try to score," warned Heynckes, who went on to praise the Blaugrana. "Barça have been an example of sportsmanship when they've won, both on and off the pitch. Bayern have learned from Barça," he added.
Holding his cards close to his chest
Heynckes was then asked about the six players who are one yellow card away from suspension (Dante, Lahm, Luiz Gustavo, Schweinsteiger, Javi Martínez and Mario Gómez) and if their situation affect his plans for tomorrow's starting line-up: "I've rested a lot of players this season. I have 21 players that have been important and the team's level of play hasn't dropped. What's important is that each of the 11 players that do play are at 100% psychologically."
Schweinsteiger: "Barça's pride has been hurt"
Thomas Müller and Bastian Schweinsteiger also talked to press ahead of tomorrow's match. Müller expects "a different version of the Messi we saw in Munich" and he's wary of what the Blaugrana are capable of doing at the Camp Nou: "they will play like they always do. In Munich they didn't have a bad first half and it wasn't until the end that we extended our advantage." Schweinsteiger added that "Barça's pride has been hurt and that makes them dangerous."