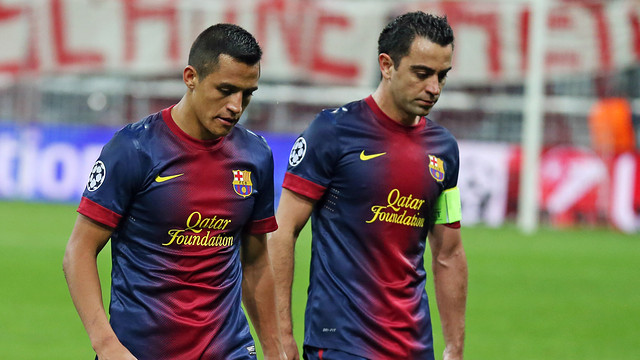 The German Champions' physical superiority helped them brush aside Barça in the first leg of the Champions League semi-final
Bayern Munich inflicted a painful defeat for Barça in Germany tonight in the first leg of their Champions League semi-final. Heynckes' team came into the game on a great run of form and they continued that with a powerful performance against a Barça side who looked duller both physically and mentally, with Messi failing to live up to his normal stellar standards, but who dominated possession and can consider themselves unlucky to be on the end of such a big defeat. Tito's side's went toe to toe with the Germans by dominating control in the first half, but were overwhelmed after the break.
Cagey start
It was a cagey start from both teams, though Robben had a great chance on 2 minutes which Valdes saved well, and Barça were taking the sting out of the game with their domination of possession. The hosts had a good shout for a penalty on the quarter hour for a handball in the box by Piqué, but they were unable to bring the ball out from the back in comfort. For their part, Barça passed the ball around with ease, but were finding it hard to penetrate against hosts who were playing a more cautious game than had been expected.
German threat in the air
As well as finding it tough to get a shot on goal, Barça began to lose the ball in midfield and conceded eight corners in the first half alone, which was always a risk given the German's power in the air and after the fifth, on 24 minutes, Müller bundled the ball home after Dante had, with what looked like a foul, out jumped Alves at the back post.
The goal didn't bring about any tactical change and Barça continued to enjoy the lion's share of possession, time and again swinging the ball out wide right and it was from that flank that a Pedro cross edged agonisingly just inches away from the oncoming Messi – who Bayern were successfully isolating. Neither Vlades nor Neuer were much in action though and Barça went in juts the one goal down at the break.
Mario Gómez doubles the lead
Bayern though, doubled their lead at the start of the second half – again from a corner headed back from the back post, which this time Mario Gómez, who looked to be offside, was at hand to tap in. With the visitors wobbling, Müller,Ribery and Robben all had chances to make it three before Barça got a grip and again began to probe and look for chances. The first fell to Bartra – from a corner – but he could only hit the loose ball straight at the keeper from close range.
Tough blow
Just when Barça were putting most pressure on the German's goal though, Robben made it three – cutting in from the right past Jordi Alba – who appeared to be illegally blocked by Müller – to shoot across Valdes and into the far corner. That was a tough blow for Barça and although Bartra again found himself with a shooting chance from a Xavi free kick, it was Bayern who capped their night with a fourth, when Müller met a cross from the left late on to score his second. That's going to be a big ask for Barça at the Camp Nou next week and in all honesty, Wembley looks to be slipping away for Tito's team.