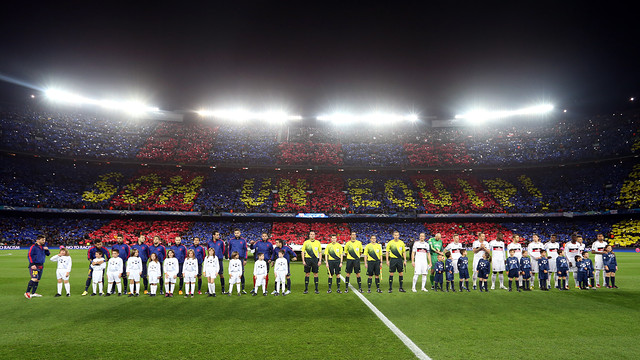 Of the 12 times FC Barcelona lost the away leg in a Champions League tie, they fought back in the return leg on eight occasions to defeat their rivals
In addition, of these eight victories, five of them were enough for the Blaugrana progress in the competition
12 previous matches
Eight victories

2012/13 AC Milan (2-0 and 4-0)*
2010/11 Arsenal (2-1 and 3-1)*
2009/10 Inter (3-1 and 1-0)
2006/07 Liverpool (1-2 and 0-1)
2001/02 PAO (1-0 and 3-1)*
1999/00 Valencia (4-1 and 2-1)
1999/00 Chelsea (3-1 and 5-1)*
1985/86 Göteborg (3-0 and 3-0)*
Three draws
2011/12 Chelsea (1-0 and 2-2)
2001/02 R. Madrid (0-2 and 1-1)
1974/75 Leeds (2-1 and 1-1)
One defeat
1959/60 R. Madrid (3-1 and 1-3)
*FCB were not eliminated

The Blaugrana have shown that they can react after losing the away leg of a Champions League tie. Since the 1959/60 season, Barça have lost the first match of a double-header tie 12 times but they fought back on 8 occasions in the return leg. In addition to the victories, Barça also secured three draws and lost only once, against Real Madrid in the 1959/60 season (3-1 in Madrid and 1-3 in Barcelona).
Five of Barça's eight victories led to the Blaugrana progressing to the net round of the competition. We don't have to go too far for the most recent example, it was against AC Milan in the Champions League this season when Barça lost at the San Siro by 2-0 but won 4-0 at the Camp Nou. Göteborg, Chelsea, Panathinaikos and Arsenal are the other four teams that were eliminated by Barça despite winning the first leg of the tie. On the other hand, victories against Inter Milan, Valencia and Liverpool were not enough to keep Barça in contention for the Champions League title.
Proud Barça
This Wednesday, against Bayern Munich, Tito Vilanova's men have an opportunity to show their capacity to react after a difficult defeat. The first objective is to play a good game and win the match. Whether or not a comeback is on the cards is impossible to say, but one thing's for sure, you can never write this Barça off.