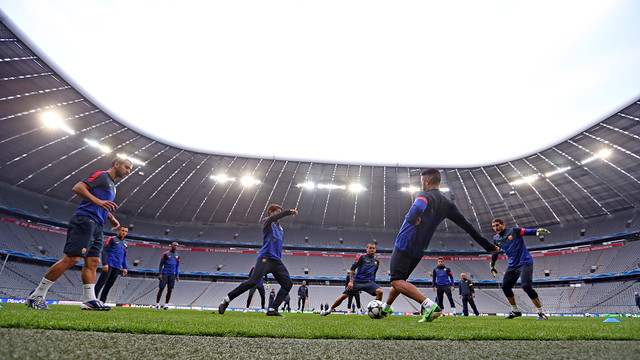 Alex Song completed an individual training regiment and did not join his team-mates on the pitch of of Bayern's stadium
The FC Barcelona players completed their first and final training session at the Allianz Arena this Monday evening ahead of tomorrow's Champions League semi-final showdown with Bayern Munich.
The session was marked by the absence of Alex Song, who stayed in the gym to complete an individual training regiment. The player will be able to feature against Bayern Munich tomorrow.
It's worth noting that 21 players travelled to Bavaria, so Tito Vilanova and Jordi Roura will have to cut the squad by three players before kick off.
This is Barça's first visit to the Allianz Arena since the summer of 2011, when the Blaugrana faced the German side in a pre-season friendly (0-2). It's worth noting that Barça's last official match at the Allianz Arena was in the 2008/09 Champions League quarter-finals, which ended in a one-all draw.