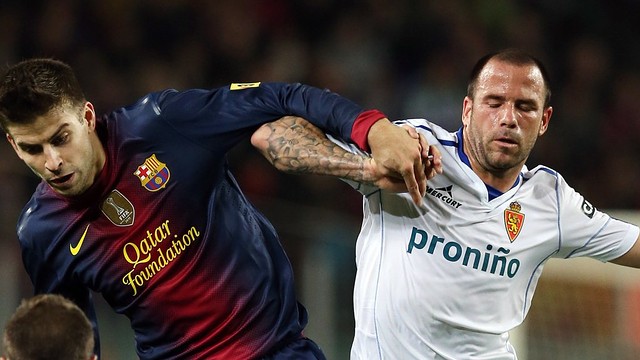 Gerard Piqué is eager to take on Bayern Munich at the Allianz Arena tomorrow for the Champions League semi-final and Barça B's Jean Marie Dongou says that he hopes to break into the senior side one day
Piqué eyes Bayern Munich
"This is why we play football. These are the types of games we want to play," said Gerard Piqué to the Madrid-based media outlet 'AS' in reference to tomorrow's Champions League semi-final showdown with the 2012/13 Bundesliga champions Bayern Munich.
The FC Barcelona full back was then asked if he's looking forward to a hypothetical final against Real Madrid. "We have enough to think about with Bayern," said Piqué, "we'd be making a big mistake if we thought about the final. Last year we were in a similar situation and neither team [Barça or Madrid] made it past the semis."
The biggest question swirling around tomorrow's match is whether or not Leo Messi will be able to play. "I'm sure Bayern would rather him not play. I'd hate to be the guy that has to mark him. If anyone says it's easy, they're lying. I played against him when I was at Zaragoza, at that time he wasn't half as good as he is now and I knew that the match would be completely different if he wasn't on the pitch," said Piqué. "We'd be dumb to think he wouldn't have an influence on the match. He's the best player in the world, he makes our job easier."

Dongou, Barça B's ambitious forward
Jean Marie Dongou Tsafack, also affectionately known as 'Juan' to his team-mates, made his Barça B debut last March when he was just 16 years old. He started his FC Barcelona career in 2005 and since then he's become a crucial player in every Barça youth team he's played in. But the Cameroonian youngster doesn't hide his ultimate goal: to one day play for FC Barcelona's senior side.
"For Tito Vilanova to call for you one day … that's what everyone [at Barça B] hopes for. That's why we're here. That's why we work so hard. We want to get the chance to make it to the first team and play at the Camp Nou. You have to take it one day at a time and work hard," said Dongou to the Catalan daily 'Sport'.
When he was asked what it's like to live so far away from home, the youngster was quick to say that he's adjusted perfectly to life in Barcelona: "I feel wanted here. I have the confidence of my coach and I'll I do my best to maintain that trust. I'm at home here, I'm very comfortable."