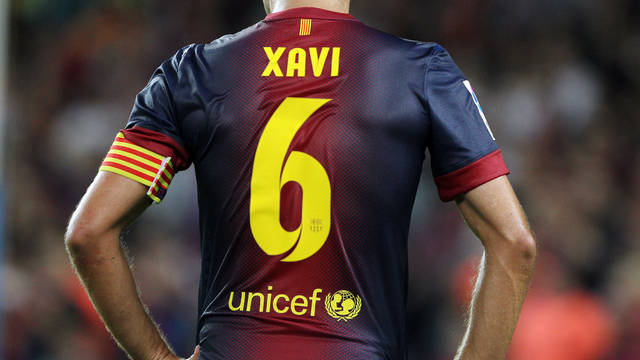 FC Barcelona secured its fifth win in as many games in La Liga this evening against Granada. The hard-fought win wouldn't have been possible without the key contributions from the following players…
Xavi:
The midfielder came onto the pitch for Thiago with 36 minutes left on the clock. The prior 54 minutes saw the Azulgranas frustrated by a nearly impenetrable Granada defence and an absolutely superb Toño in goal. With three minutes to go before the full 90, the fans at the Camp Nou started digesting the possibility that their team might not win its fifth consecutive match in La Liga. But then Pedro slotted in a low, hard cross from the right wing that was scooped up by Xavi. The midfielder, whose talents aren't always associated with scoring goals, unleashed a powerful right-footed shot that nicked the crossbar before settling into the back of the net. Xavi's goal led the way to Barça's eventual 2-0 win over Granada, thus preserving the team's perfect run in the Liga.
Valdés:
Despite the palpable tension at the Camp Nou due to the 0-0 scoreline, Víctor Valdés didn't have a lot do to. However, just minutes before Xavi's magnificent strike, the unmarked Fabián Orellana found himself in front of Víctor Valdés in the Barça area. The Granada player sent his shot low and to Valdés' left but the keeper was quick off his line and pulled out an amazing save that kept his team's hopes alive of winning the match. After the game, Andoni Zubizarreta noted that "Víctor once again showed why he's Barça's keeper."
Dani Alves:
The Brazilian defender was omnipresent on the right side of the pitch. The right back barreled into Granada territory throughout the first half and linked-up with Messi and Alexis superbly to keep his white-and-blue counterpart on the back foot. However, when Granada surged forward after a quick overturn the Brazilian was always there to stop the counterattack in its tracks.