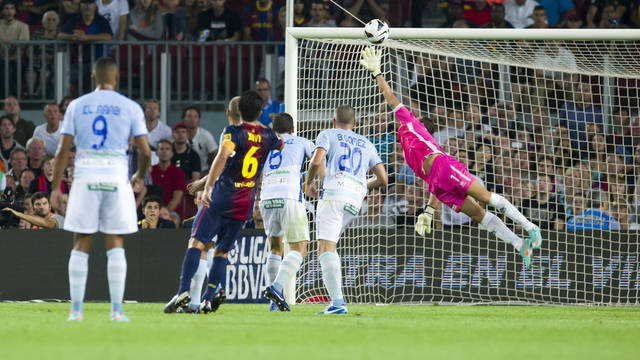 In the end it was a narrow, hard-fought win but the match stats tell a very different story in terms of chances and possession
– With five wins in five matches, Barça are just one more victory away from equalling the best ever start to a league campaign.
– Cesc Fabregas is the only outfield player who has started all five league matches.
– Barça produced 20 shots (13 on target), while Granada lo had just 6 (3 on target).
– Barça had 70% of the possession.
– Barça players made 701 passes, compared to 182 from Granada.
– Xavi Hernandez, who was on the pitch for just 41 minutes, completed 62 passes, almost three times as many as the best Granada player (Orellana, with 22).
– The two Barça central defenders, Alex Song and Javier Mascherano, topped the ranking of balls recovered, with 13 and 12 respectively.
– David Villa made his first appearance in the starting line-up since picking up a serious injury last December.