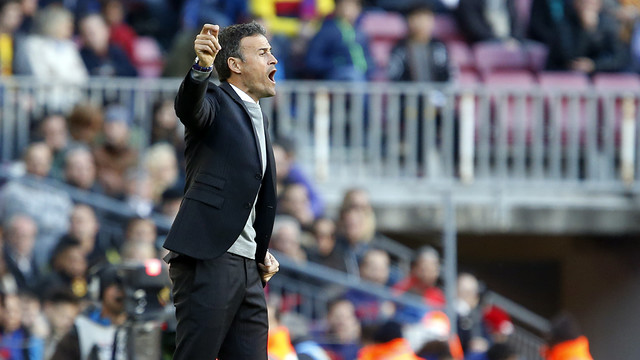 The FC Barcelona manager says his team heeded Friday's caution that Real Sociedad would be tough opponents
FC Barcelona head coach Luis Enrique was glad he was right. After using Friday's press conference to alert his players that Real Sociedad were no laggards, the Catalans appeared to heed that advice to the fullest, putting in a quintessential team effort to down the Txuriurdin by a score of 4–0 at Camp Nou.
In fact, knowing the win came against a team managed by Eusebio Sacristán, who made his name at FC Barcelona as a player and, later, an assistant coach, gave extra significance.
"It was Eusebio's second game, against a team with outstanding football and an outstanding mentality," Luis Enrique told reporters after the game. "In a game like today, if we had taken a 'let's see' attitude, we would have had problems."
"Real Sociedad made things tough for us, even if the scoreboard says otherwise," he continued. "It was a difficult game," he said.
Here are some of the other statements Luis Enrique made after the game:
On his team:
"The team is in great form. I always expect that the best is yet to come."
On changes in the line-up:
"We have to be able to rotate players. We came off two high-intensity games with three-days rest, and we had to be able to spread out the minutes."
On the Trident:
"They have this thing where if they don't all score, it's as if it's incomplete."
On the long haul:
"The players are very smart and they know there's a long way to go. No team has ever won the league in November. We have some tough games coming and the Club World Cup in the immediate future. We're going step by step."
On adding Arda Turan and Aleix Vidal:
"We can tell that the month of January is coming. They're two new pickups who know our model to perfection."