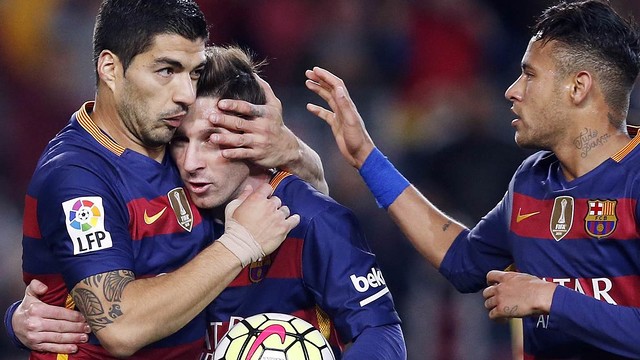 The league season heads into the final set of fixtures with three teams still in contention for the title. Here's a look at what's left in store for Barça and the two Madrid clubs
La Liga is down to its last three weekends, and everything remains to be decided. After scoring an amazing 14 goals to no reply in their last two games, Barça remain top of the table with 82 points, the same as Atlético Madrid and one more than Real Madrid. There are three pulsating weekends of football still to go, so here's a look at what's left for the top three, and the factors that might work for and against each:

Top of La Liga: Click the image for the complete table

In Barça's hands
The most important factor of all. Barça are still in front, and that means that as long as they win their three remaining games, then they'll be champions no matter what happens elsewhere. But there is almost zero margin for error. Should the Catalans drop any points between now and May 15, then there's a strong chance of one or other of the Madrid teams taking the maximum nine points.
Real Madrid, meanwhile, are really depending on other teams doing them a favour. For Zinedine Zidane and co to lift the trophy, they'll need both Barça and Atlético to slip at least once.
Tie breakers
In La Liga, it's the head-to-record that splits teams if they finish level on points. After doing the double over Atlético, Barça will always win that one. And despite losing the Clásico at home, the 4-0 win at the Bernabéu means that Barça will also top Real Madrid should they be tied at the end of the season.
European distraction
Barça would love to still be competing for the Champions League, but the sad reality is that they are out. And there's nothing will change that now.
But on the plus side, it does at least leave the Blaugrana free to concentrate on their Liga fixtures, while their rivals have massive semi-final fixtures to worry about as well. Atlético beat Bayern Munich 1-0 at the Calderón on Wednesday and Real Madrid drew 0-0 at Manchester City the day before, so they have both got a lot of work left to do.

Home and away
Atlético have the slight edge here, as two of their remaining games are at the Vicente Calderón, while Barça and Real Madrid still have to travel twice.
What the opposition need
Luis Enrique never tires of pointing out that at this stage of the season, anything can happen, because teams are battling for so many different objectives. In some cases, First Division survival hangs on these games, while other clubs have their eyes on for Europe. At this time of year, it's far preferable to have to face sides in mid-table that no longer have anything other than pride to play for.
Atlético probably have it most difficult in this respect. Rayo and Levante are both in very real danger of relegation, while their other opponent, Celta, are locked in a tight battle with Sevilla and Athletic Bilbao for a Europa League berth.
Real Madrid are more fortunate. Both Valencia and Real Sociedad are safely tucked away in mid-table and their remaining games are largely inconsequential. And by the time they play Deportivo, the chances are that the Galicians will be in the safety zone too.
Barça, meanwhile, have a bit of everything. Saturday's opposition, Betis, no longer have anything important to play for. But Granada, who they meet on the final day, could well still be fighting for survival. In between is a game with Espanyol, who have been sliding down the table recently. If the pericos don't get anything out of their home game with Sevilla on Sunday, then they'll be in big need of something when they come to the Camp Nou a week later. And not forgetting, of course, that that game's a local derby, when the proverbial form-book often gets thrown out the window….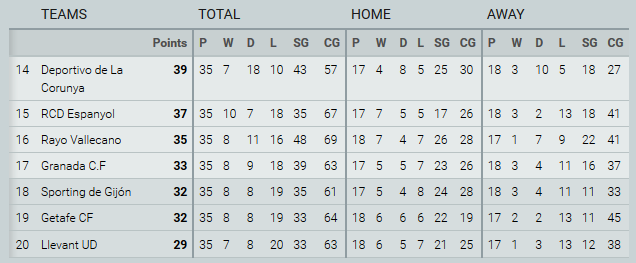 Bottom of La Liga: Click the image for the complete table