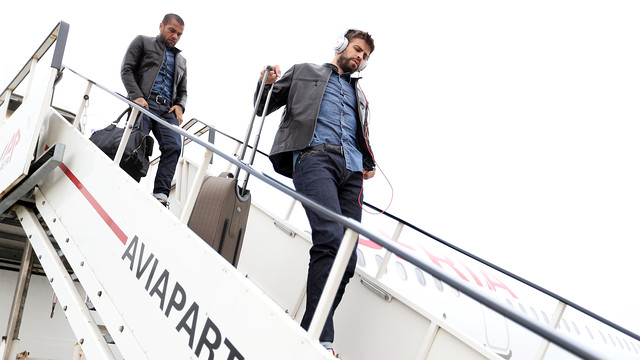 After almost four hours in the air, the first team's flight landed in Larnaca at around 1.00 PM CET
The FC Barcelona first team have arrived in Cyprus for Tuesday's Champions League match with APOEL. The flight to Larnaca left El Prat Airport at 9.15 AM CET and touched down at around 1.00 PM CET. The 22 players named by Luis Enrique were then transferred to Nicosia, which lies some 50 km to the north.
The travelling party is being led by president Josep Maria Bartomeu, who's joined by vice-president Javier Faus directors Silvio Elías, Josep Ramon Vidal-Abarca and Pau Vilanova, and director of sport Andoni Zubizarreta.
Luis Enrique and Ivan Rakitic will be giving a press conference at 5.15 PM CET, and then at 6.00 PM CET the players will train in the same stadium that will be holding the game on Tuesday evening at 8.45 PM CET.
Words from Zubi
Director of sport Andoni Zubizarreta had a few words to say to the media before boarding the plane. Discussing last Saturday's 5-1 win against Sevilla, he said that "it was a very demanding opponent. Emery's team always work hard on tactics but we played well in attack and especially well in defence, creating pressure high up the pitch. We played well in that less visible area and reacted well to their equaliser."
Asked about Thomas Vermaelen not being named to the squad, he commented that "during the international break he had ten good days and was happy, but on Sunday he had some trouble and we decided it would better if he didn't travel."
And on the subject of being jeered during the video to congratulate Messi in the stadium, Zubizarreta said that "one has to be modest and accept criticism."