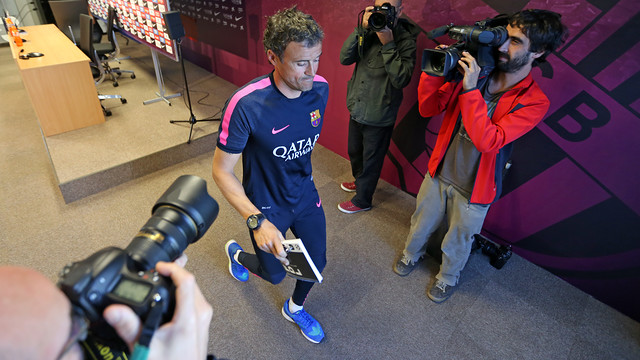 Great expectation in the press room just 24 hours before the Clasico in the Santiago Bernabéu
Barça coach Luis Enrique revealed that Luis Suárez will appear at some point and Sergio Busquets is fit to take part
Great expectation in the press room at the Ciutat Esportiva. In the traditional pre-game press conference ahead of Madrid-Barça, Luis Enrique revealed his thoughts before his first Clásico as a coach. He is clear about what he wants from his players: "We will go out there with the same footballing ideas and the same attitude as always. That, according to the coach, is "going after the from the start, without sitting back, having the ball and deserving the victory"
[[CITA_1]]
Following on from that the Barça coach made it clear that regardless of the Real Madrid starting 11, he would not adapt his preparations for the game. Nevertheless, he recognised their opponents strength, above all "some very special qualities: the transition and the firepower they have up front". What will be the keys to stopping them? "We have the aim of controlling the game. We need the ball and to commit as few errors as possible and to be on our game up front", he replied.
Entertainment and a sporting approach
This time before the game Luis Enrique did not want to give away any clues about the starting line up in the Bernabéu, however, he did reveal that "Luis Suárez will have a few minutes without doubt". He also made it clear that Sergio Busquets, after missing the last two games, "will be available to play with any problem". The coach from Gijón was delighted to "have a lot of options all over the pitch". He added that he had not noticed any changes in any of the possible Clasico debutants but at the same time he admitted that in games of his nature "emotions can get the better of you".
He knows that full well from his days as a player and just a day before his first Clasico as a coach, he expressed his hopes that his team receive a less hostile reception than last season when he visited the Santiago Bernabéu as Celta de Vigo coach. "This time it will be better shared out", he said with a smile. He was full of respect for his Madrid counterpart Carlo Ancelotti and at the same time unwilling to get caught up in controversy. All in all, he expects a great Madrid-Barça; for the blaugrana coach, "the Clasicos should be charged, fun and entertaining, and ruled by sporting considerations".
Luis Enrique: "Clasicos should be charged, fun… por fcbarcelona

We have to go for the game from the start, not sit back, have the ball and deserve the victory